English Country Home Decor Ideas
One of the more popular trends in interior designs is the English country home style. I think this has been fuelled in part by the number of celebrities who have second homes in the country side - how many of us have seen interior design shows featuring celebrities' country homes and wished we had that for ourselves. One of the more chic ideas in country home decor, is the English country home. There is a certain elegance and sophistication about the English country home that is very appealing.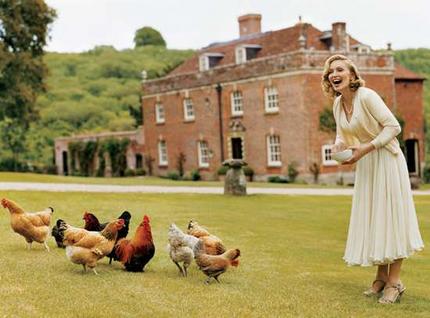 Well, we may not all have the luxury to have a second home in the countryside, but we can certainly create an English country home for ourselves in the place we live in.
This article focuses on creating an elegant style of English country home through tips and ideas on English country home decor. It is not as hard as it might seem!
Take a read :)
The Elegant Style Of English Country Decorating
By Lee Dobbins
If you are considering redesigning or redecorating your home, then why not adopt the formal and elegant charm of the English country decorating? By applying a blend of toile, formal furniture and antique accessories plus formal but neutral colors, this design can enhance any type of home. By making use of this decorating style, you can have the regal look of the English countryside no matter where your home is.
With this style you want to be sure to use the right fabrics and window treatments are key. You might want to buy curtains that are formal and get some decorative pillows to match. Decorating with striped or flowered curtains would look nice or you can go with the classic toile pattern.
Just like anything else, it's a good idea to include the proper lighting fixtures for your English country decorating theme. Your decorating theme will look richest if you deploy lighting that is formal but elegant. Choose accent lamps in rich brass or crystal but don't pick anything with a lot of prisms or fringe.
Pull your design together with coordinating artwork and accent pieces. Decorating with items that exude a regal and elegant appeal compliment this type of room design. Purchasing decorative accessories which match with your personality and preferences will make the room your own. Look for antique boxes in beautiful woods, crystal decanters and vases, old master style paintings and framed needlework to complete your decor.
You can pull the whole room together by using coordinating accent rugs on top of rich hardwood floors. Look for rugs in creams and beiges with a formal style. Oriental style rugs can go great with the English country look.
Use inviting sofas and chairs with a formal but not overstuffed look. For wood, you want to go with mahogany or cherry wood. In the dining room, needlepoint seats on the chairs add elegance and interest.
If you want a traditional and formal look, then the English country decorating style is perfect for you. By selecting the right accessories, furniture and colors, you will be able to make your place look like it was decorated by a professional without having to pay the high price!
For more tips on decorating visit http://www.decoratingcharm.com where you can learn more about English country decorating as well as other decorating styles.
Article Source: http://EzineArticles.com/?expert=Lee_Dobbins
English Country Home Decor Ideas
English Country Home Decor Kitchen and Breakfast Area
We tend to spend a lot of time in the Kitchen
So Having Adequate Space is Essential


English Country Home Decor
An All White Bedroom
Light and Airy


Contemporary English Country Home Decor for Living Room


English Country Home Decor for Bathrooms
Include flowers as part as Bathroom Interior Design


English Country Home Decor for Dining Room
Light Blue-Gray Color

You May Also Find Useful

Bamboo Window Blinds

Faux Wood Window Blinds


Labels: Country Home Decor, Interior Design