Using Marble Tiles for Bathroom
If you are remodeling your bathroom, you might want to consider using marble tiles for the bathroom. Marble will certainly cost you more, but in the long-run, marble in the bathroom would raise the overall value of the house. Furthermore, marble in the bathroom gives the bathroom a luxurious look.
There are several marble color options in the market today: milky white, red, black, mottled and banded, gray, pink and green. So you have a variety of colors to work with in designing your bathroom.
Marble can be used in a variety of places in the bathroom: marble as floor tiles, marble on the vanity counter and marble on shower walls.
Well-placed marble accents in the bathroom will also look great.
For more information on selecting marble for use in your bathroom, please read below.
Colored Marble Tile Flooring For Your Bathroom
By Vanessa A. Doctor
All throughout civilization, there has been no doubt of marble's eminence. One of the most popular places in the modern home for marble floor tiles is the bathroom.
Marble has retained its ranking as the supreme building material for vanities. A natural marble vanity or sink stands out as the one and only choice for many discriminating and aesthetically-inclined homeowners.
While marble has the characteristic of being etched and stained by water and chemicals, the use of modern sealants has significantly reduced this major risk.The stone that inspires poetry and has been used to create architectural wonders across the world is in fact a metamorphic rock, which was formed by the alteration of limestone or dolomite.
Marble is used for both interior & exterior flooring applications. Marble is available in many colors like milky white, red, black, mottled and banded, gray, pink and green. Some manufactures offer marble tiles in the form of green marble tiles, green marble slabs & green marble blocks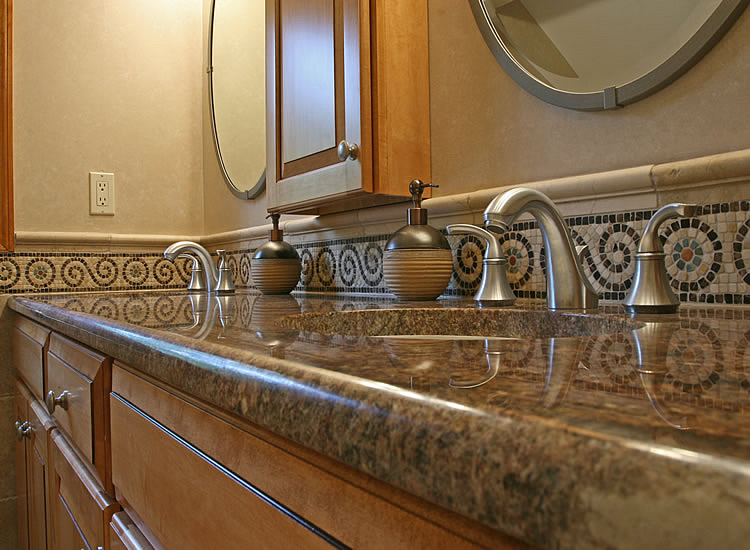 New Technologies Have Reintroduced Marble Tiles As Bathroom Vanities
A more recent advance in tile fabrication technology has enabled marble floor tiles to be within the reach of many homeowners. A sink could be a bowl of polished marble which sits atop a vanity. A tall faucet empties water into the vessel. It is a simple, yet supremely artistic way to decorate a bathroom that will make all your houseguests green with jealousy.
Marble tiles on the floor of a bathroom are almost a commonly seen necessity, if a homeowner's target is to create a luxurious bath. These tiles are available polished or honed. Honed tiles generally provide more traction. Polished tiles do provide a more elegant look, however they can be very slippery when wet, so bath mats need to be placed at strategic points in the bath or shower room.
Marble Could Also Be Used As A Shower Wall
Many professional interior decorators know the key to a luxuriously created bathroom is to utilize marble around the walls and the tub. Most Jacuzzi bath tubs and Roman tubs look far more elegant wrapped in stone. Marble is also a popular fixture in shower walls and in steam showers; again however, traction is a factor that need to be seriously taken into consideration.
Marble mosaic tiles are often used on shower floors, and the grout lines provide the necessary footing to prevent slipping.Hand-carved marble trim pieces are also good for use in framing bath mirrors, and a wide variety of marble accents will round off your ultimate dream bath.
Tumbled Marble Also Makes For A Rustic, Old-World Bathroom Feel
The current rise in the popularity of "tumbled marble" has seen an increased use in many homes. These rustic tiles look more like travertine, wherein they have a rough finish, and often have little pits full of crystal, as well as an an uneven edge which is usually rounded at the corners.
These varieties are available in many sizes and are good for backsplashes, showers, and flooring. The hand-carved look of these tiles helps provide an excellent method for counteracting the formal air which marble typically lends to a room.
http://tilenet.net - Tilenet Marble Tiles
Vanessa A. Doctor from Jump2Top - SEO Company

Article Source: http://EzineArticles.com/?expert=Vanessa_A._Doctor
Marble Bathroom Accents


Gleaming White Marble Bathroom Tiles
Such Floors Can be Slippery
So Use of Well-Placed Bathroom Rugs is Useful


Gray Marble Shower Walls


Marble Sink from Mexico - Ultra Trendy Modern Bathroom Sink


Warm Marble Bathroom with Rich Tones

You May Also Find Useful

Bamboo Window Blinds

Faux Wood Window Blinds

Labels: Bathroom